We makes it easy to price or purchase custom furniture slipcovers online. There is only one step to price it. And three steps to purchase it.

Ordering Slipcover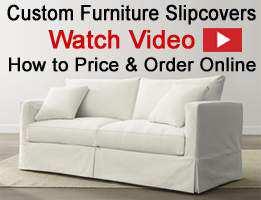 Ordering Cushion & Pillow Covers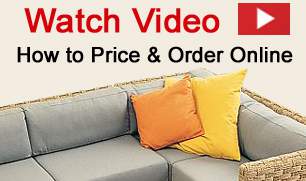 Ordering Sectional Slipovers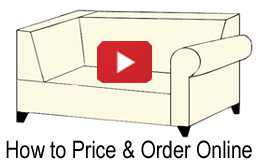 What is quoted price include, and ho long will it take?
Quoted price includes our fabric and labor, this is true to all products on our site. Usually all our custom orders are made within 7 business days if submitted measurements are correct.
Does custom sofa cover includes separate cushion covers?
Price quoted is for one-piece slipcover construction that covers furniture body and all the cushions at once. Price does not include optional Separate seat or back cushions. When ordering, you will be given an option to purchase or not to purchase optional separate cushion covers.
How about sofa sleeper option?
How to measure your furniture and cushions
All our custom slipcovers are made according to your dimensions and specifications, therefore for perfect results follow these simple rules.
• Before placing an order download printable "Work Sheet", fill it out and then return to the computer. (otherwise system may time out) Each "Work Sheets" is unique and available for printing once you have selected your back style.
• Use flexible tailors measuring tape when measuring curved shapes. Especially when measuring curvature.
• Measure according to chart. Do not invent your own measuring techniques. If we ask you to measure to the floor - you must measure to the floor.
• Do not add or subtract from actual dimensions.
• Do not assume anything - if you have question e-mail or call us, we are here to help.
If the product is damaged or mistake is made on our account we will take every effort to correct mistake and ship slipcover as soon as possible. We will NOT take responsibility for mistakes that are made by customer. If you have made mistake measuring, and it is possible for us to correct it we will do so at additional charge. Charge will depend on required additional fabric & labor. Customer is responsible for all shipping. Please measure carefully - custom slipcovers are not refundable. .