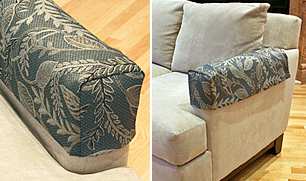 Armrest Cover Protectors
Easy to Price and Purchase online! As you know, very first stains occur at the arms of the furniture. For prevention - Armrest Cover is the only solution!
Lead Time: One week.
Price includes: Our fabric and Labor.
Our Work: Before and After Pictures
To Price or Purchase, click on desired pattern below
Custom Armrest Covers

Ultimate furniture armrest protectors

If you have an upholstered armchair or sofa, you know that the arms are susceptible to a wide range of adverse conditions. Baring this in mind, it is safe to say that the very first stains usually occur at the arms, especially if you have children, pets, or frequent house guests.

Our custom armrest covers are the perfect solution to hide unsightly stains, tears, and scratches. Ergonomically designed and contoured to your specific furniture piece, Custom Arm Cover Protectors dress the front of the arm from tip of the arm to the top of the seat cushion, and from the tip of the arm to the back of furniture. Choose a furniture armrest cover and coverlet in the same style fabric for a seamless look.

Prevent and Conceal Damage

Slipcovers for couches help keep the dirt and grime at bay, protecting, and renewing the look of your living area. However, couch and sofa chair arms are far more prone to suffering spills and rough-housing than the rest of the piece. If your sofa's arms get intensely worn and torn by guests, kids, or pets, you may find that our furniture arm cover protector is a simple and attractive solution. Of course, custom armrest covers for couches can be used to prevent harm, but they can also aid you in covering up already existing damage.