We also make custom size futon covers.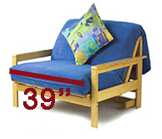 Twin futon
39"Wide X 75Long"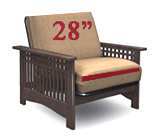 Chair futon
28"Wide X 54Long"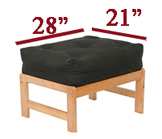 Ottoman futon
28Long" X 21Wide"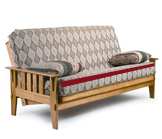 Full size futons
75" Long x 54"Wide
Queen size futons
80" Long x 60"Wide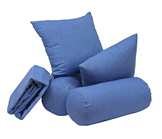 5 Pc Pillow Pack Includes:
1 Futon cover,
2 Square 20" pillows with zippered covers
2 Neck Rolls 9" x 20" pillow with zippered covers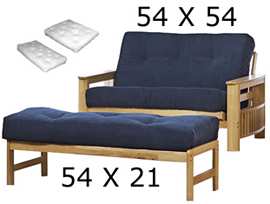 Loveseat 54" x 54" & Loveseat Ottoman 54" x 21" 
The futon
 loveseat uses a futon cushion that is 54" wide and 54" long for the seat and back of futon frame. The 54" x 21" futon cushion is used for the ottoman portion or extension piece in front of it. Futon Loveseat & Loveseat Ottoman are also known as Full split futon, for very simple reason - when both are put next to each other they make a true full size mattress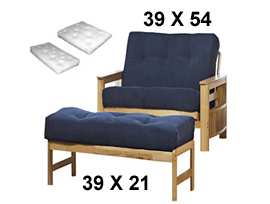 Split Twin 39" x 54" & Twin Ottoman 39" x 21"
 The Twin futon split uses a futon cushion that is 39" wide and 54" long for the seat and back of futon frame. The 39" x 21" futon cushion is used for the ottoman portion or extension piece in front of it. This configuration is also known as Twin split futon, for very simple reason - whe